Waterfowl Grass Blinds

FREE NATIONWIDE SHIPPING
Boat Grass Blinds

COMMERCIAL GRADE - FREE NATIONWIDE SHIPPING
Duck Hunting Grass Mat Rolls

LONG LASTING - FREE NATIONWIDE SHIPPING
Raffia Grass Blinds

FREE FAST NATIONWIDE SHIPPING
Goose Hunting Woven Grass Blinds

FREE NATIONWIDE SHIPPING
Layout Camo Raffia Blinds

BUY NOW AND SAVE
Waterfowl Grass Blinds
FREE NATIONWIDE SHIPPING
Boat Grass Blinds
COMMERCIAL GRADE - FREE NATIONWIDE SHIPPING
Duck Hunting Grass Mat Rolls
LONG LASTING - FREE NATIONWIDE SHIPPING
Raffia Grass Blinds
FREE FAST NATIONWIDE SHIPPING
Goose Hunting Woven Grass Blinds
FREE NATIONWIDE SHIPPING
Layout Camo Raffia Blinds
BUY NOW AND SAVE
About our waterfowl grass duck blind covers
All of our commercial grade grass blinds can be cut to any size vertically or horizontally without falling apart. This makes it perfect if you and your hunting buddies want to go in on a 60ft roll and cut to desired sizes into panels to save lots of money, other companies you cant do this without unraveling. Don't waste your time with the cheap Asian 4' x 4' or 4' x 5' duck blind covers that you keep buying over and over again that will shed grass when you are installing them, then you have to splice them together. Our grass blinds won't shed and will last many years and is one continuous roll just attach to your frame. When done just cut zip ties and roll back up till next time.

Hiding in Plain Side does Not Have to Be a Pain!
Welcome to Duck Hunting Grass Blinds,
The home of the best commercial-grade hunting blinds on the web. Conveniently located at 280-S Arrowhead Ave. San Bernardino, California, our store offers a variety of premium quality and affordable duck hunting grass blinds.
When it comes to providing the best commercial-grade grass hunting materials, no other company offers you with more variety then we do. Apart from a large inventory of reasonably-priced hunting blinds, we also offer our customers with free nationwide shipping. What more could you possibly ask for?
America's #1 Choice for Grass Hunting Blinds
Hunting and other waterfowl is a fun and adventurous pass-time for many sportsmen whether your hunting in The Great Salt Lake, San Francisco Bay, St. Paul Island Alaska, the National Wildlife Refuge or western mountain region. Not only does it get you to appreciate the outdoors, but it is also a great way for you to stockpile your freezer with delicious duck meat.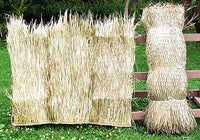 Grass Duck Blinds
Best grass blind material, not the cheap Asian grass material that everyone else sells
>
<
Enter Our Photo Contest for a Chance to win $50 off next purchase

Free Nationwide Shipping In The Continental USA

Don't Miss Out
More about our waterfowl grass blinds
Today's duck and goose hunters have been blessed with a plethora of choices when it comes to hunting blinds and portable concealment, which makes choosing the right one a tough nut to crack.
Concealment grass and portable duck blinds are especially useful when it comes to hunting ducks and other waterfowl out in the open. Duck hunting blinds and grass mats help in concealing duck hunters, making it difficult to get spotted by their prey.
Our lightweight waterfowl blinds create a seamless camouflage, allowing you to move closer towards your prey or change positions several times without worrying about being detected by the prey.
We, at Duck Hunting Grass Blinds, are here to help you make the right choice.
Now you can go duck hunting with confidence, knowing that you'll be protected from the elements and go undetectable to your prey. Our heavy-duty hunting blinds ensure total concealment from inquisitive green-winged teal, pintails, shovlers, wigeons and any other water fowl.
Our premium quality duck blind grass roles are dyed in the colors of barley, corn, and wheat, allowing them to blend seamlessly into the marshlands, grass, and fields around the country and provide the perfect camouflage for duck hunters.
Why You Need to Invest in High Quality Hunting Blinds?
When it comes to duck or waterfowl hunting, you need to hide in plain sight and get as close as possible to where the waterfowl want to be in order to have a clear shot. But, this is easier said than done. Just like you wouldn't want to venture out into the rain without an umbrella or a rain poncho, you can't just waltz up to a brace of ducks and hope that they'll stay still. Ducks know better than that.
Every hardcore waterfowl hunter has been there. You've done everything you can to stay undetected and out of sight from the ducks circling above you, but that's what you think.
As much as some duck or waterfowl hunters like to think of themselves as Captain Invisible, the fact of the matter is that even the slightest fidget here or there can give your location away and make your prey disappear, sooner than you can say "fowl play."
The reason for that is simple. Ducks, geese, and other waterfowls rely on a keen vision as their first line of defense against predators and yes, that includes hunters as well. Thousands of years of evolution means that waterfowl are especially adept at spotting something odd, even under low-light conditions.
Ducks and other waterfowl also have a high level of awareness of their surroundings. So when it comes to a suspicious floating island that suddenly appears out of nowhere, especially if that island happens to be glistening in the sunlight, they're quick to react.
To avoid being detected, duck and waterfowl hunters use special woven grass mats and waterfowl blinds to improve their stealthiness. The high-quality duck blinds for sale at Duck Hunting Grass Blinds offer a high level of stealthiness at an affordable price.
Needless to say, using the best duck blinds for sale will offer you seamless camouflage, allowing you to make a comfortable shot. We offer duck blinds in several sizes to help you find one that perfectly fits your needs so you can be prepared for waterfowl migration of redheads, Atlantic Canada geese, ring-necked ducks, black ducks to Washington's northwestern coast or the Chenier Plain in southwest Louisiana.
Hide in Plain Sight with Our Portable Duck Blinds
When it comes to duck or waterfowl hunting, being able to hide in plain sight is going to be the key to your success. However, duck hunting is so much more than just sitting around in a camo and waiting for a flock of ducks to fly your way.
At Duck Hunting Grass Blinds, we offer our clients premium quality duck blinds that have been designed using sturdy, heavy-duty materials. But more importantly, our duck blinds for sale have been designed using natural materials, offering you a greater level of success in your duck hunting endeavors.
Beware of Poor-Quality Fancy Blinds
There are many companies that offer poorly constructed hunting blinds that feature blind grass that sparkles and glitters in the sun. While they may look attractive to you, waterfowls usually see a bright hunting blind as a sign of danger.
The duck blind grass mats and duck blind grass role that we offer uses natural looking grass camo, which blends in with the foliage and grass around the duck's natural habitat, giving you a better chance of hitting your target.
Another major problem of investing in sub-par hunting blinds is that they have not been built to cope with the wear and tear that's part of hunting. In other words, going hunting with a poorly-built hunting blind will not only scare away your prey, but their flimsy design means they will only last for a single hunting season.
On the other hand, investing in duck blind grass mats from a reputable source, such as Duck Hunting Grass Blinds, will get you high-quality and durable hunting blinds. Our products have been designed using natural materials, such as grass and thatch, which makes them sturdier and long-lasting.
Our commercial-grade hunting blinds have been designed to go the distance and will easily become a major part of your hunting equipment for many hunting seasons to come across the top 10 duck hunting states.
Premium Quality Duck Boat Blinds
We Give You the Opportunity to Make Every Hunting Trip a Success!
Duck boat blinds offer hunters with an effective and crafty way to follow their prey as they shift from one area of a lake to another. If you will be hunting ducks, geese, or other waterfowl in an area where the water is too deep to stand in, then investing in sturdy and stealthy duck boat blinds is the way to go.
Stalk ducks and other waterfowl knowing that you're going to be concealed at all times with our high-quality boat blinds. Use our commercial-grade waterfowl boat hunting grass blinds for sale to trick those wary ducks into coming in closer so that you can take aim more accurately than ever before. Here are a few reasons to use our heavy-duty boat blinds:
Fits Any Average-Size Boat
Our waterfowl boat hunting grass blinds for sale conceal your boat all the way down to the water to ensure you don't spook the hunt away. Our small and medium boat blinds can fit a range of boat types and widths, even those with a pointed or narrow bow.
We also offer large boa blinds that are specifically designed for larger boats. Our water blinds come complete with sturdy fasteners for attaching the blind to the frame of a wood, aluminum, or fiberglass boat.
More importantly, the portability of our boat blinds means that it does not get in the way of driving the boat, which makes it the best option for those waterfowl hunters who plan on using a boat to get closer to their prey. Its unique design means that the boat blind can lay completely flat on the boat as you travel across the lake.
Hassle-Free Set-up
What makes our waterfowl boat hunting grass blinds for sale is that they are extremely easy to set-up. Installation takes a matter of seconds, and it can collapse even quicker. Our duck boat blinds are the best products available in the market today and are the ideal choice for boats that run on mud motors or any other type of motor, which is why our blinds are always in popular demand for hunting Pacific Flyway's ducks and geese.
Easy Storage and Trailering
What makes our duck boat blinds unique is their unique design. Once you're done using it, the boat blind can be neatly folded into a compact package that helps protect the material from damage and makes transporting easy. Once collapsed, out boat blind takes up minimum space in your four-wheel drive or boat.
Its portable design means that the duck boat blind is not going to get in the way of your visibility while driving the boat. Its portability means that when the duck boat blind is not helping you disappear in plain sight, it will take up minimum space and essentially disappear into your storage shed or garage.
Easy Installation
Our duck boat blinds do not come with any moving or removable parts that can be lost or misplaced. We use the latest technology in the design of our boat blinds, which makes it easy to raise the blind into position or collapse it when it's time to head home.
To attach to your frame just use a nylon zip tie (cable ties) and to remove just cut zip tie and roll back up. This ensures you're going to be using our premium quality duck boat blinds for many hunting seasons to come.
Heavy-Duty Build Quality
We mean it when we say that our products have been built to last for hunting Aleutian cackling geese, white-fronted geese, light geese and many more. The frame of our duck boat blinds have been constructed from sturdy, lightweight galvanized steel to ensure its durability. The addition of a powder-coated exterior adds to the longevity of our product.
Why Duck Hunting Grass Blinds?
The following are some reasons why you need to buy from Duck Hunting Grass Blinds to get the edge you need on your next hunting trip: Sturdy and Lightweight Designs
At Duck Hunting Grass Blinds, we don't just sell hunting blinds, we design our products in a way that offers you the best concealment possible in the wild. Our concealment products have been built with high-quality materials so that they are able to keep up with the demands of repeated use.
We have years of experience in providing, commercial-grade hunting blinds of all sizes, including boat blinds that have not been designed just to last throughout the hunting season, but for years to come. Our ground blind material camp is widely used for hunting by professionals at Sabine and Lacassine national wildlife refuges in Cameron Parish, Chenier Plain in southwest Louisiana, Charleston South Carolina and private lands open to sportsmen.
In short, we design and sell durable hunting blinds, built from quality materials and not the cheap Asian grass material that everyone else sells.
The Hottest Deals
We offer the hottest deals with our commercial grade, hunting blinds that are for sale.We have a huge inventory of woven grass mats and duck blinds for sale. Our products are available in various sizes to cater to your specific needs. The huge variety of options that we offer makes it easier for you to find the best product for your specific needs. We constantly offer incredibly deals on our website where you can buy our amazing hunting blinds and boat blinds at prices that are better than that of Amazon or eBay.
Largest Inventory of Duck Hunting Grass Blinds for Sale
It's good to have options. At Duck Hunting Grass Blinds, we specialize in providing the perfect concealment for ground and boat hunters.
If you're searching for hunting blinds that does not resemble a tent, then you have come to the right place. We offer a variety of commercial-grade hunting blinds that are reasonably priced and designed specifically to keep you out of sight.
Free, Same-Day Shipping
As if that wasn't enough, we offer free shipping for all of our customers in the U.S. We pride ourselves in delivering high quality products fast, so you can rest assured that you won't have to wait too long to get back to hunting ducks, geese and other waterfowl. So, why wait a moment more? BUY NOW and take advantage of our AMAZING PRICES and FREE, SAME-DAY SHIPPING.
Proudly Serving the Following U.S., States:
Alabama - AL Arizona - AZ Arkansas - AR California - CA Colorado - CO Connecticut - CT Delaware - DE Florida - FL Georgia - GA Idaho - ID Illinois - IL Indiana - IN Iowa - IA Kansas - KS Kentucky - KY Louisiana - LA Maine - ME Maryland - MD Massachusetts - MA Michigan - MI Minnesota - MN Mississippi - MS Missouri - MO Montana - MT Nebraska - NE Nevada - NV New Hampshire - NH New Jersey - NJ New Mexico - NM New York - NY North Carolina - NC North Dakota - ND Ohio - OH Oklahoma - OK Oregon - OR Pennsylvania - PA Rhode Island - RI South Carolina - SC South Dakota - SD Tennessee - TN Texas - TX Utah - UT Vermont - VT Virginia - VA Washington - WA West Virginia - WV Wisconsin - WI Wyoming - WY
>Why Duck Hunting Grass Blinds Is Your Best Choice?
With all the advancements in blind layout technology and design over the years, it pays to invest in a quality duck blind grass mats and other concealment products. Investing in duck blinds can greatly increase the level of enjoyment of every hunting trip and will also greatly improve your success rate by getting you closer to your prey.
Whether you are a seasoned waterfowl hunter or just starting, its time you said "NO" to large, boxy blinds and opted for a smart, lightweight solution. Our experts, many of whom are hunting veterans are eager to show you how at Duck Hunting Grass Blinds.
Anchoring out in open water around Samish Bay or Padilla Bay? No problem. We've got you covered! No matter where you plan your next hunting trip, we offer our customers with comfortable woven grass matsand duck boat blinds that have been designed to conceal the hunter, whether you're at Big Sandy, West Sandy, shallow water coves, shorelines, or islands.
Duck Hunting Grass Blinds is here to offer you with a comfortable way to conceal yourself while you hunt ducks, geese and other waterfowl.
Contact Us Today
To find out more about our heavy-duty, commercial-grade duck and waterfowl hunting blinds and other materials please feel free to contact us today at 1 951-662-3472, or you can send us an email at sales@duckhuntinggrassblinds.com.
Shop Now and Save
Thanks for looking at our website. We would love to discuss any questions you may have.
Location
Our store
Grass Duck Blinds
280 S Arrowhead Ave San Bernardino, California, 92408
Mon - Fri, 9am - 9pm
Saturday, 9am - 5pm
Sunday, 9am - 5pm
Open most weekend